WELCOME TO MARUDHAR AGRICO
---
We are a family run group of  companies all related to manufacturing of Agricultural & Contractor hand tools viz. Hoes, Pickaxe, Picka Mattock, Cutter mattock, Forged Shovels & Spades, Forged Forks, Scrappers, Serrated Sickles.
We have had a modest start by manufacturing Chain pulley blocks, Tractor trailer.  In the year 1976, under the leadership and technical expertise of Tolaram Malviya and Kesharam Malviya started Pickaxe factory under TRACTOR brand.
Come 1984 we started Marudhar Agrico under the leadership of Vijay Malviya we setup a Hoes Factory, Marudhar Agrico
The year 2000, with the efforts and profound forging knowledge of Vijay Malviya we started developing products for England market viz. Forged Shovels & Spades, Forged Forks. and then it was no looking back, it was one of the most challenging task by then and it is these products which gave Marudhar Agrico its name and space in merchants mind.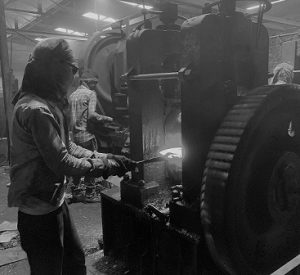 Marudhar
 Agrico, we are an ISO 9001:2015 certified manufacturing unit engaged in manufacturing of Forged Agricultural tools  since 1976. We have been a leader in developing forging techniques in Roll forged tools and equipment.
We are manufacturing
Forged Shovels/ Spades
Forged Scrapers
Forged Forks
Hoes
Serrated Sickles
Forged Billhooks
Forged Draw Hoes.
In Marudhar Agrico we are promoting products with brand Malviya Agro. This brand communicates trust and Innovation of our products.
Our other Business
---
MALVIYA ENGINEERING WORKS
Malviya Engineering Works is where we had started our humble beginning in the year 1965. Then we started with making chain pulley blocks, tractor carriage and any refurbishing job which may come. With time we started making Power Press and Roll Forging machine.
With setting up over 30 plant all across India and Overseas, we have lead with many innovation in Engineering division and have earned a reputation with it.
We also make Hoe, Pickaxe making plants, Block cutting, Stone processing machinery.
This is custom heading element